FBI Will Huma Abedin Be Hung Out To Dry…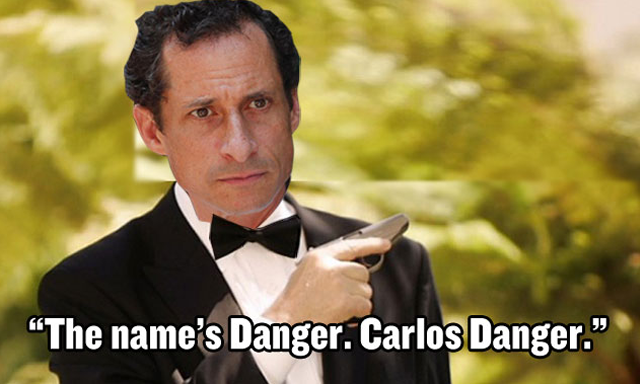 "The Name's Danger. Carlos Danger" – Image Copyright ThrilList.Com
The pressure on Hillary Clinton is not going away and it now appears that maybe to stop the FBI onslaught Clinton may drop one of her aides into the mire…
In the headlights for the drop looks to be Huma Abedin…
She by nature keeps a low profile and most of the time keeps her private life private. That is until her estranged husband Anthony Weiner morphs into his alto ego Carlos Danger the internet sex predator who is always "Hard" and ready to "Bust a Pussy"
Now Anthony Weiner is a career low life and moreover he is connected by marriage to Huma Abedin. That means problems as in multiple issues that may derail Team Clinton on the road to the White House.
Today, Sunday October 30th Hillary Clinton is in Florida and ever present aide Huma Abedin is back home in New York. Now why is that? People assume that Team Clinton does not want Huma Abedin out in public where she can be photo opped and quizzed by the press and media. This leads to the next question – What has Huma Abedin got to hide? Now that is the $64,000 dollar question which the answer may well be nothing. On the other hand opening up Huma Abedin may release a can of worms.
At this time it is correct to assume Huma Abedin is as clean as a whistle!!!
But if she is not clean then…
FBI – Will Huma Abedin Be Hung Out To Dry…